Phase 2.2 – 6/18/2020  Pending approval from the Local Liquor Licensing Commission allowing additional outside seating, J's Restaurant Outdoor Evening Seating will be open for outside service surrounding the Restaurant, Thursday, Friday, and Saturday with reservations available from 4:30 pm to 7:30 pm.  Reservations are required.
Curb Side pick up is available every Thursday, Friday and Saturday evening from 11 am to 7pm.  From our Kitchen to your Car to your Romantic Home
MENU LIMITATIONS:  They on-line store does not allow us to present different menu's for different times so we are asking our customers to only order items from the two menus below for pick-up  at the times available as detailed below which means that you cannot mix menus on a single order.  Thanks as we apologize for the limitations of our on-line store.
"J's Take Out" Menu-  Available for Pickup  from 4 – 7 pm on Thursday, Friday and Saturday.  Available for delivery to our Picnic Grounds from 4 – 6 pm on Thursday, Friday and Saturday.  Grounds close at 7 pm on Thursay, Friday and Saturday and at 5 pm on Sunday.  Please consider this when having a late delivery as purchasing food does not permit anyone to stay later.
"Daytime Picnics at the Winery" Menu –  Available  for either delivery to the Picnic grounds or Pickup from the winery on Thursday, Friday, Saturday and Sunday for delivery or pickup  between 11 am and 4 pm.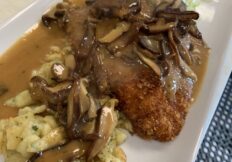 How it works
Place your order at any time (even right now) up to 2 pm on the day of pickup.  Ordering for each day closes at 1 pm on that day so that we can gather all of the fresh ingredients to make your meal special.

All items are prepared to order for the designated time selected so please select the time that is convenient for you to pickup.

From our on-line store (link below), select the date(Thursday, Friday or Saturday only) and the time that you wish to pick up your order.  Orders can be picked on Thursday, Friday and Saturday from 4:00 pm until 7:00 pm.

Add the menu items, wines, beers or spirits that you wish to pick up to your cart and check out.

Wines, beers, spirits and other retail items will be picked up at the winery pick up table and food will be picked up from the Restaurant pick up table.

When you arrive at the winery, enter at the winery entrance and when you get to the table with the American Flag, stop and dial 978-779-5521 and state your name.

Wait at the flag until you see your order placed on the table next to the Red Flag and then proceed to the table to pick up your retail order.

Next proceed up the drive to the yellow flag where you will collect your food.

Drive home safely, open a bottle of wine, spirits or been and enjoy a wonderful evening prepared by your local farm winery, distillery and brewery.  And don't forget to add our Liquid Hand Sanitizer to your order.
J's Restaurant will soon again be a destination for friends to gather and enjoy the creations of the staff at Nashoba Valley Winery.   
In 1995, Owner, Richard Pelletier created J's at Nashoba Valley Winery to offer something special; a small country farm house restaurant offering a quiet, romantic farm house environment featuring wines and beers produced by his winery and featuring locally grown products often grown on our farm and prepared with our wines.   Converting the original farm house to a restaurant while maintaining the farm house historic features, the entire restaurant provides seating for approximately 50 customers in 4 rooms.  Our Menus are often limited by what we are able to grow or purchase locally.   In 1995, long before the farm to table concept was a common phrase, J's was creating meals from food grown on the farm and served on the farm.  It remains our vision to serve everything fresh and  locally grown or caught.   Farm to table was never the goal at Nashoba since it was simply the way of life on our farm.  
Even with its popularity, J's remains a farm house experience with a relaxed approach to outstanding food and service.   Our customers come to J's because they feel that they are dining at a special place in the country for a special experience.  We continue to preserve the ambiance by limiting large reservations to a minimum and limiting total reservations for the day.  Additionally, as a service by reservation restaurant, we often only prepare, harvest or purchase fresh produce and foods based on the reservations booked making it difficult to often accommodate people wanting to dine with us without reservations.  There is more to our food and service than an empty table!
During the summer and fall we generally recommend that you book a reservation a minimum of 7 to 14 days in advance.
Finally, when you visit other restaurants that claim they support local farmers, look at their wine and beer selection to see their commitment to offering everything local and ask them where is Bordeaux in relation to Worcester!
Reservations are Required for the Restaurant 
Please call 978-779-9816 to check availability.
Sample Sunday Brunch Menu – Click Here
Picnic Lunch Menu – Click Here
General
Reservation Information
As a small intimate rustic farm house with multiple small rooms catering to romantic evenings and celebrations, we are not suited for multiple large reservations and therefore accommodating parties of  5 or more people is often difficult.   When available and provided other reservations are not already taken, larger groups of up to 8 people can be accommodated in our Gallery Room or up to 8 people in the Winemakers Room.
Seating for Lunch
Closed Monday & Tuesday
Wednesday – Saturday 11:30 a.m. – 2:00 p.m.
Reservations Available from 11:30 a.m. – 2:00 p.m.
Restaurant closes at 3:30 pm
Seating for Dinner
Wednesday, Thursday, Friday & Saturday
Reservations Available from 5:00 p.m. to 8:00 p.m.
Restaurant Closes at Midnight
Seating for Sunday brunch
Reservations Available from 10:00 a.m. – 2:00 p.m.
Restaurant closes at 3:30 pm
CLOSED HOLIDAYS 
New Year's Day, Fourth of July, Thanksgiving Eve, Thanksgiving Day, Christmas Eve and Christmas Day, New Year's Eve and New Year's Day
J's will be closed for Winter Vacation from December 30th, 2019 to January 14th, 2020
J's Menus
Lunch
Dinner
Brunch
Picnic Lunch Menu
J's Restaurant Info
Attire
Reservation Policy
Days & Hours Of Operation
Cancellations
Purchase Gift Certificates